Look Out for Our Hard Working Farmers, May, 2022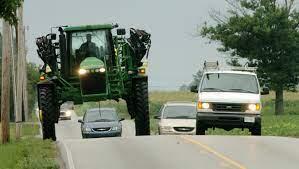 As we are well into spring and getting closer to summer, our local agriculture community will be in "full force!" While I always attempt to avoid repetitive articles (or sermons!) for related community articles, I can't help but to always recognize this time of year which brings long-hours and "road miles" to our local farmers.
With that said; I offer an annual reminder that, in the coming months, I encourage our citizens to be most cognizant of farm implement on the secondary roadways throughout the county. Our local agriculture community members whom work so diligently to not only provide our local residents -- but those elsewhere -- with the food necessities we all need in life, will be operating large implement on our secondary roadways the next few months to access their fields and other areas of operation. At no fault of our local farmers, some of those roadways have narrow areas, blind corners and other areas of traffic concern.
I respectfully ask our residents - and all travelers for that matter - to be most cognizant of farm machinery that may be operating along our roadways the next few months! Predominately, Callaway County is a farm community and, if we all work to avoid some type of traffic related tragedy - or any tragedy for that matter - our community is best served.
As always, I have an "open door" and telephone policy. If any citizen has concerns, comments or suggestions, please feel free to contact me at the Sheriff's Office anytime. While I may be hard to catch at times, I will always return a request for citizen contact. I am elected by you, and thus, answer to you!
At your service, and respectfully, your Sheriff,
Clay Chism