DEPUTY PATROLS LEAD TO VEHICLE PURSUIT AND ARREST OF WANTED FEDERAL FELON
01/05/2022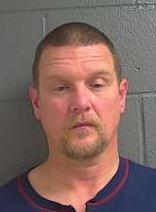 Ryan Ellingboe, 47, Columbia, MO
On January 3, 2022, at approximately 10:19 PM, a Callaway County Sheriff's Office deputy was proactively patrolling the rural Hatton / Kingdom City area. During the course of the proactive patrol, the deputy spotted a vehicle associated with Ryan Ellingboe, 47, of Columbia. Ellingboe was a wanted fugitive; reference a warrant issued by the United States Marshal's Service.
As the deputy attempted to stop the vehicle, a pursuit ensued; Ellingboe being the vehicle driver. Ellingboe subsequently fled from the deputy on Old Highway 40 near State Road M, and then drove through the median onto westbound Interstate 70. Ellingboe subsequently exited the interstate onto State Road DD, continuing onto County Road 269. Other county deputies joined the pursuit.
Near the intersection of County Road 276, Ellingboe ultimately stopped and was taken into custody. Felony level controlled substances were subsequently located.
Ellingboe was transported to the Callaway County Jail where he remains in-custody reference the federal warrant. Additionally, the Callaway County Prosecuting Attorney charged Ellingboe with Felony Resisting Arrest.
Ellingboe is being held without bond, per Judge's Order.
End of media release.
** All suspects are presumed innocent until and unless proven guilty in a court of law **