40 Minute Overnight Pursuit Results in Multiple Felony Charges
01/04/2022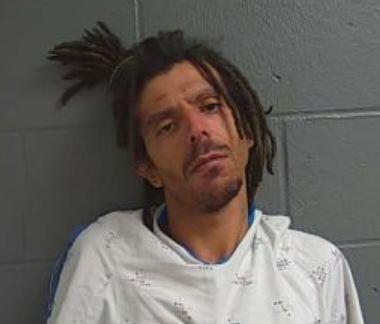 Jared Evans, 33, Kingdom City, MO
On January 3, 2022, at approximately 3:24 AM, while proactively patrolling the Fulton area, a Callaway County Sheriff's Office deputy attempted to stop Jared Evans, 33, of Kingdom City, MO. Evans had earlier fled from Fulton Police Department officers and was later spotted by the deputy.
A lengthy, 40 minute vehicle pursuit entailed in the Fulton and Kingdom City area that traveled numerous city, county and state roadways; including but not limited to: West 7th Street, West Chestnut Street, Ingle Street, Dale Street, Churchill Road, Jefferson City Road, US Highway 54, County Road 110, County Road 121, Jade Road, County Road 127, County Road 128, County Road 118, County Road 107, County Road 116, County Road 105, County Road 114, County Road 210, County Road 209, and Tara Ridge Road.
During the course of the pursuit, Evans twice turned around and drove head-on at two Callaway County deputies, nearly striking them head-on.
Evans subsequently crashed at the intersection of County Road 209 and Tara Ridge Road and was taken into custody. Evans was transported to a Columbia hospital for medical treatment, guarded there by deputies, and then transferred to the Callaway County Jail.
The Callaway County Prosecuting Attorney charged Evans with several felony offenses including Assault and Resisting Arrest. An arrest warrant was issued ordering Evans to be held, without bond, at the jail where he remains.
End of media release.
** All suspects are presumed innocent until and unless proven guilty in a court of law **